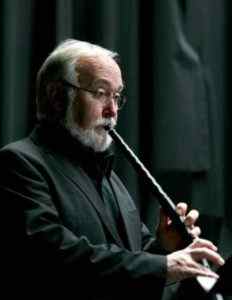 Bruce Dickey is one of a handful of musicians worldwide who have dedicated themselves to reviving the cornetto – once an instrument of great virtuosi, but which lamentably fell into disuse in the 19th century. The revival began in the 1950s, but it was largely Bruce Dickey, who, from the late 1970s, created a new renaissance of the instrument, allowing the agility and expressive power of the cornetto to be heard once again. His many students, over more than 30 years of teaching, have helped to consolidate and elevate the status of this once forgotten instrument.
For his achievements the Historic Brass Society awarded him in 2000 the prestigious Christopher Monk Award for "his monumental work in cornetto performance, historical performance practice and musicological scholarship." In 2007 he was honored by British conductor and musicologist Andrew Parrott with a "Taverner Award" as one of 14 musicians whose "significant contributions to musical understanding have been motivated by neither commerce nor ego." In the course of his long career as a performer and recording artist he has worked with most of the leading figures in the field of early music, including the legendary pioneers of historically informed performance, Gustav Leonhardt, Frans Brüggen and Nikolaus Harnoncourt.
He was a member for over ten years of Jordi Savall's Hesperion XX, and has frequently and repeatedly collaborated with Ton Koopman, Monica Huggett, Philippe Herreweghe and many others. Bruce Dickey can be heard on countless recordings. His solo CD ("Quel lascivissimo cornetto…") on Accent with the ensemble Tragicomedia was awarded the Diapason d'or. His second solo CD, entitled "La Bella Minuta", has just been released on the Passacaille label. In 1981, Bruce Dickey moved to Italy, partly to be closer to the origins and source materials for his instrument and its music. He currently lives with his wife and daughter in a country house, surrounded by vineyards, outside of Bologna, home of the original Concerto Palatino.