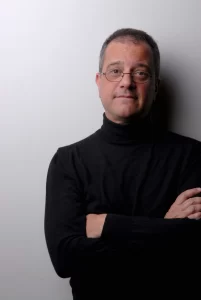 Garrick Comeaux, Artistic Director of Consortium Carissimi, returned to the United States in 2005 after 25 years of life in Italy and Germany, with extensive experience in early music, both as a singer and as a conductor. Garrick began his musical formation at an early age in piano studies, bass viola and cello, as well as private voice lessons. Comeaux attended Concordia College in Moorhead, Minnesota and sang under the direction of Paul J. Christensen, then dedicated his energies in vocal studies at Indiana University Music School in Bloomington.
Garrick moved to Rome, Italy in 1981 where his studies in voice continued at the Music Conservatories of Santa Cecilia in Rome and F. Morlacchi in Perugia, Italy. He soon took residence in Munich Germany in 1986, continuing vocal studies and performing as a member of the Bayerischer Rundfunk Konzertchor – Munich, Germany and also sang in concerts and recordings conducted by directors such as Sawalish, Solti, Maazel, Sinopoli, Barenboim and Bernstein. His keen interest in early baroque music began in the years spent in Germany, performing various works and oratories of Schütz, Buxtehude, Bach, Carissimi, Monteverdi and Purcell.
Comeaux has worked extensively over the years with various early music groups, predominately in Italy but throughout the European continent. He has collaborated with ensembles and directors such as the Coro della Radiotelevisione Svizzera Italiana, Lugano, Switzerland, Diego Fasolis; L'Homme Armè, Fabio Lombardo and Andrew Lawrence King; Capella Ducale in Venetia, Livio Picotti; De Labytintho W. Testolin. In 1996, Comeaux founded the original Consortium Carissimi in Rome, Italy, with the aim of presenting – above all – the sacred and secular music of early Roman Baroque. The Minnesota based Consortium Carissimi was established in 2006.
In addition to performing the works of Carissimi, the ensemble also performs pieces by his contemporaries that, either because of similarity of style or because of their freshness and inventiveness, have often been mistaken for music by Carissimi, thus providing a clearer picture of the extraordinary effervescence that existed in the music world during the early Baroque period in Rome.